European-Style Hotel Rooms in Santa Barbara, California
Discover our stylish micro hotel rooms in Santa Barbara, featuring the perfect balance of contemporary design and streamlined amenities. Our 41 micro guest rooms reflect our attention to detail and design through ceramic tile flooring and colorful touches reminiscent of the city's unparalleled energy. Thoughtful additions such as Keurig Brewers and premium bedding provide our guests with the ultimate comfort, and a relaxing place for lodging in Santa Barbara.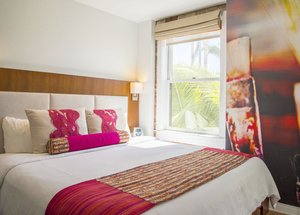 41 Micro Hotel Rooms
Pet-friendly, compact, and located in the midst of the Funk Zone.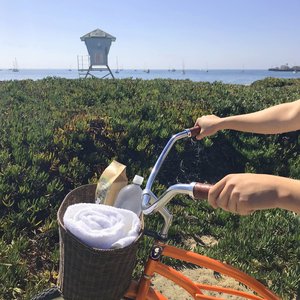 Car-Free Travel Package
Leave your car keys at home, and reserve your car-free travel package to enjoy all the benefits of staying with us car-free! Our art hotel is tucked in the midst of the Funk Zone, a hip and trendy area that demands to be seen on foot or by bike. As soon as you step outside, you'll be surrounded by restaurant patios, boutique shops, and warm California air. Take one of our
Amenities Our Guests Want

Drop your bags and head out into the dynamic streets of Santa Barbara, thanks to Hotel Indigo's premier location. We've streamlined our guest rooms to feature only the amenities our guests use to offer you our best rates. Each room has been thoughtfully designed to use the space and accommodate pets, without sacrificing style. After a day of adventures, relax in your micro lodging in Santa Barbara, complete with complimentary Wi-Fi, USB-ready HDTVs, and a European-style wet bathroom.
Book a group room block.
Book one of our contemporary hotel rooms in Santa Barbara today for a boutique hotel experience downtown and the special little touches that modern travelers want. Contact our Reservations Team today to find the room that's right for you.